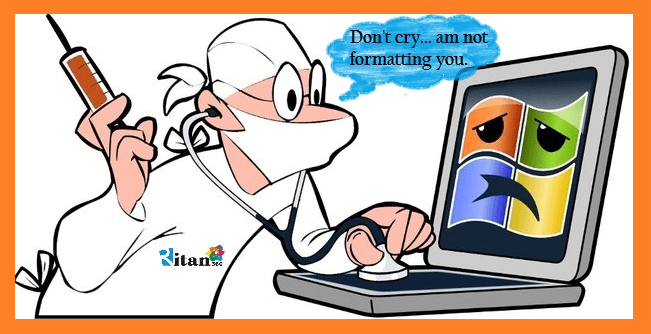 A lot of time I often hear people say, "I need to format my computer; it's too SLOW and HANGING!
The sincere truth is that formatting is not the ultimate solution to a slow computer; it is always better to diagnose the problems before taking any action. Today we will share with you few tips to help enhance the effectiveness of your computer without formatting.
The first thing to consider if you experience your computer is functioning below its capacity or its freezing is to check the age of the computer, do not expect a computer older than 6 years to perform at optimal level as it was years ago, come to terms that it is likely the age of the computer is causing it to be slow, and it may not be worth it to worry about "fixing" it. Computers evolve at an exponential rate, and new software and core updates for programs increase their minimum requirements for the computer systems. Older, non-compatible computers may not be able to catch up… hence it may perform slower than you expect.
What if my computer isn't in the above category; then the following reasons may be the cause.
Your computer does not have enough of free hard drive space or needs a memory upgrade. Check the computer memory.
Your computer's hard drive is corrupted. Replace it.
You have too many applications running simultaneously. Deactivate startup applications.
Hardware failure or overheating processor. Replace it.
Incompatible and outdated drivers. Re-install and Update it.
Your computer is infected with a virus or malicious program. Get an Anti-virus or anti-malware.
Your operating system or other software is out of date. Update it.
Your computer has been running for a long time without a reboot. Please shutdown for some hours.
Before you take any of the above steps, we encourage you to always backup your files; there are many free cloud services out there to help you. Don't forget to read our ever green article on – Keeping Your Computer HEALTHY – https://ritan360.com/keeping-your-computer-healthy/  we covered tips on how to back up your files there. For more details, talk to us at Ritan360 Technologies today.
Thank you for reading.
Don't forget to share with friends.
Ritan360 Technologies